YVES SAINT LAURENT
Bianca Jagger, 1971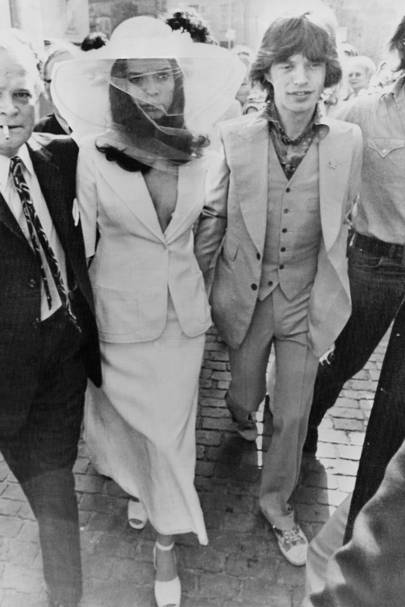 This Nicaraguan socialite was no stranger to breaking rules and setting trends throughout the 1970s. Known as the 'Queen of Studio 54', she famously once rode into the New York nightclub on a white horse, and was a close friend and confidante of Andy Warhol. So, when she married Rolling Stones frontman Mick Jagger, her personal choice of bridal style was unlikely to be a classic affair. Entrusting leading designer of the decade Yves Saint Laurent to create her signature bridal look, his creation not only sparked a media frenzy when she appeared at the Saint Tropez church, but together they made bridal fashion history. Laurent's ivory Le Smoking jacket paired with a bias cut skirt, along with Bianca's decision to abandon her blouse at the last minute because it was too tight (due to her being four months pregnant) created one of the most iconic bridal looks of all time – which continues to inspire brides decade after decade.
Charlotte Casiraghi, 2019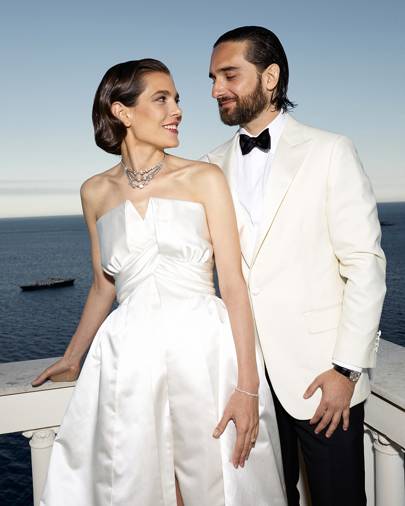 Having previously modelled for Yves Saint Laurent, the fashion house was an obvious choice for the Monégasque royal beauty for her wedding day. Paying tribute to her famous grandmother Grace Kelly, her choice of a chic grey brocade short dress with bow details for her civil ceremony was reminiscent of the champagne and pink wedding suit Kelly wore to her own 1956 civil ceremony. Fittingly, Saint Laurent had also been one of her grandmother's favourite designers.
Gabriel Jagger marries Anouk Winzenried at step-father Rupert Murdoch's Holmwood House
CHRISTIAN DIOR
Soraya Esfandiary-Bakhtiary, Queen Consort of Iran, 1951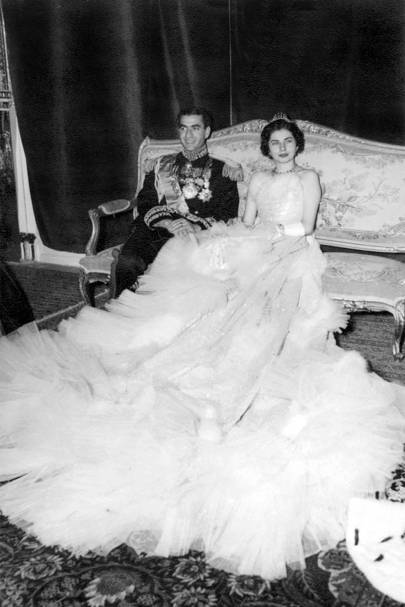 It was a fairytale dress for a fairytale wedding: the Shah of Iran had fallen in love with a picture of Soraya Esfandiary-Bakhtiari, and after just one meeting he proposed with a 22.37 carat diamond engagement ring. Soraya headed directly to Dior for her dress – a huge honour for both Christian personally and his fashion house. No stone was left unturned in this elaborate creation, made of 37 layers of silver lamé studded with pearls, 6,000 diamond pieces and 20,000 marabou pieces; it weighed a massive 20 kilograms. It was so heavy that the bride could barely walk, with the Shah famously ordering the underskirt to be cut out. Dior's name went up in lights and the dress, a work of art, was like no other bridal gown ever created.
Princess Caroline of Monaco, 1978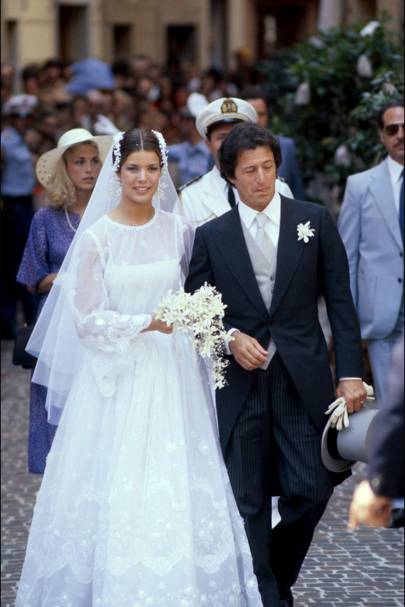 For her first wedding to 38-year-old Phillipe Junot, the young 21-year-old Princess Caroline honoured her mother, Grace Kelly, by commissioning one of her favourite fashion houses, Dior, then headed up by Marc Bohan. Bohan had to make last minute alterations to the design after details of the dress leaked, but the final version was a stunning, pretty lace trimmed 70s style wedding dress.
Gwen Stefani, 2002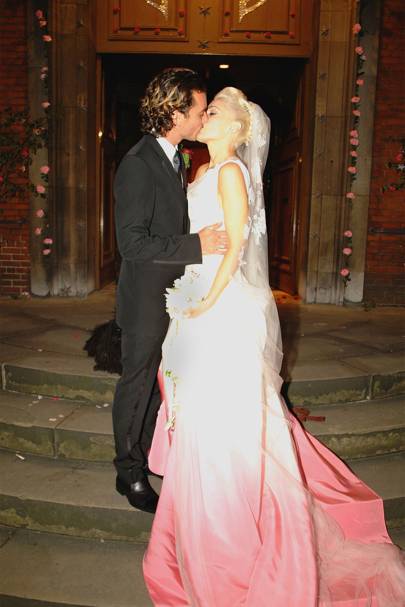 It was never going to be a quiet affair (or dress design) when pop star Gwen Stefani married Brit musician Gavin Rossdale. Thus the daring John Galliano, who was then heading up Dior, seemed like the ideal partner in crime to team up with. While her satin one-shoulder gown featured many elements of the traditional wedding dress, the pink dip dyed skirt was what made history.
Miranda Kerr, 2017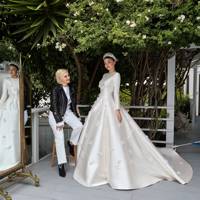 It's always an honour when a supermodel enlists your help to mark a monumental moment in her life. The Australian Victoria's Secret model Miranda Kerr did just that with newly appointed Dior artistic director Maria Grazia Chiuri. Kerr became engaged to American businessman in July 2016, the same month Chiuri was appointed as the first woman to lead the house in 69 years. Though the two had never met, Kerr said, 'I think it's every girls dream to have Dior design her dress' she told Vogue, 'I thought, if she's up for it, I'm up for it.' The result was an immaculate long sleeved classic full skirted satin dress, adorned with appliqué lily of the valley flowers.
These have been the best society weddings of 2021 so far
HUBERT DE GIVENCHY
Audrey Hepburn, 1969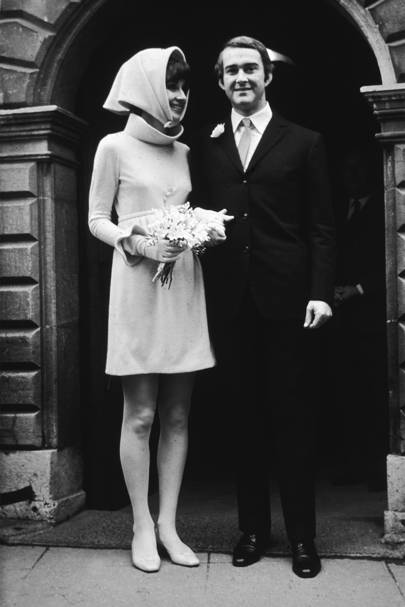 The Hollywood actress had the grand master himself, Hubert de Givenchy, work with her on her wedding dress for her second marriage to Andrea Dotti. The two had met when Givenchy designed her famous wedding dress for the 1957 film Funny Face, in which Hepburn starred alongside Fred Astaire. Breaking with tradition, her real life Givenchy bridal look was a pink 60s mini dress with a matching headscarf instead of a veil. As fashion leaders of their day, Givenchy and Hepburn's collaboration set in motion the idea that it was acceptable to get married in a colour other than traditional white.
Lara Stone, 2010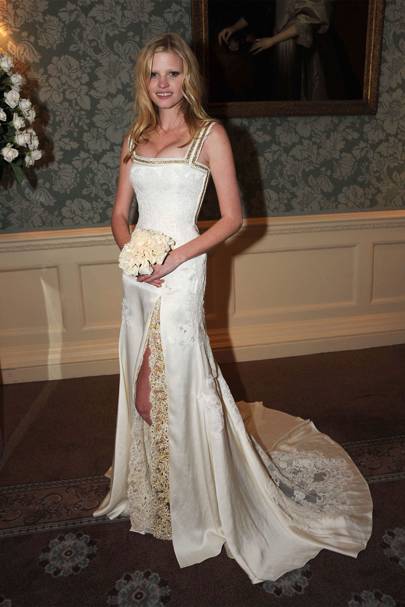 It was a major fashion moment for Ricardo Tisci when Lara Stone asked him to design her gown for her first wedding to David Walliams. It was something of a thank you, perhaps, as Stone owed much of her initial success to Tisci. Becoming a model at 13 and moving to Paris at 16, she was still traveling to castings and featuring in catalogues until Tisci cast her for a Givenchy Haute Couture show. The daring fitted dress created for her wedding oozed sex appeal, with gold chain details on the straps, a low cut neckline and a thigh high lace trimmed slit at the front of the skirt.
Kim Kardashian, 2014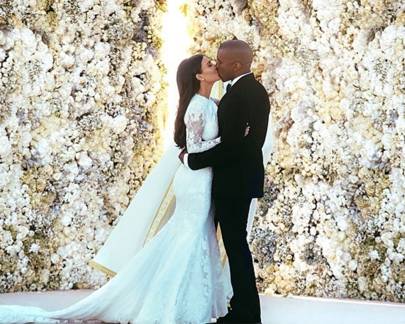 In what was one of the most lavish and elaborate weddings of all time, Kim Kardashian opted to wear a bespoke Givenchy Haute Couture dress to mark her marriage to rapper Kanye West. The fashion houses' then creative director, Ricardo Tisci, a close friend of West's, was able to translate Kardashian's own unique personal style into bridal-wear. The show-stopping long sleeved lace ivory gown featured a diamond-shaped cut out bodice, leaving see-through side panels, all accessorised with an extremely long, head-turning veil.
The Duchess of Sussex, 2018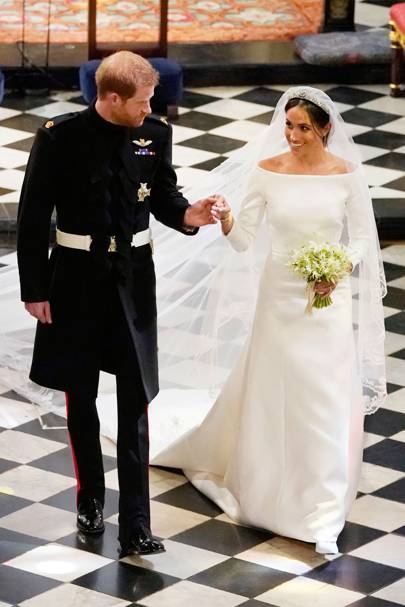 After much anticipation, the world watched with excitement to see what Meghan Markle would wear on her wedding day to Prince Harry. British-born designer Clare Waight Keller, Givenchy's first female artistic director, was more than aware of the importance of her own role within this historic moment, telling Tatler that she was extremely 'proud and grateful' to work with Meghan. Keller had said she wanted to create a timeless piece that would emphasise the iconic codes of Givenchy throughout its history, as well as convey modernity through sleek lines and sharp cuts. Meghan and Keller worked on the five-metre long silk veil together, including Commonwealth flowers as a special gesture. Hundreds of hours were put into making it, with the workers washing their hands every 30 minutes to keep the tulle and threads pristine. Meghan's silk duchess satin shoes were based on a Givenchy pointed SS18 Haute Couture design, with Waight Keller also designing the six bridesmaids' silk radzimir dresses, which were handcrafted in Paris.
Dolce & Gabbana on creating Lady Kitty Spencer's stunning wedding dress
CRISTÓBAL BALENCIAGA
Queen Fabiola of Belgium, 1960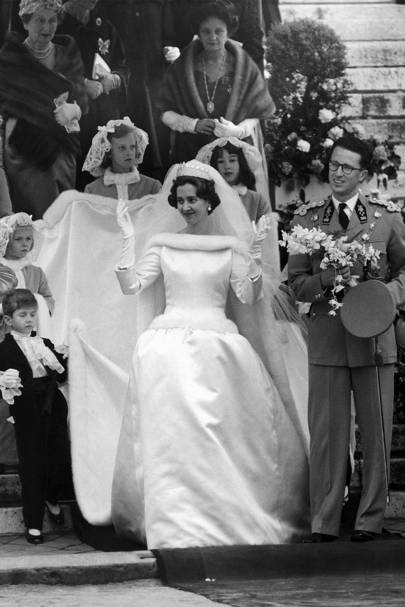 The ermine trimmed, caped dress was one of the most talked about wedding gowns of its time. Both regal and fashionable, its creation for the new Queen was a defining moment for Cristóbal Balenciaga as it was Fabiola's grandmother, the Marchioness de Casa Tores, who launched his career. As one of the wealthiest and most influential women of the Basque country (where Balenciaga was born), his mother worked for her as a seamstress and as a boy he would spend time in her house studying what contained some of the finest art collections in Spain – which later influenced his work. At 12, he offered to design the Marchioness a dress. When she asked him why, he responded, 'because I think I can'. Her support enabled him to move to Madrid where he went on to win the patronage of Spanish royalty. By the time Fabiola announced her engagement to King Baudouin of Belgium, Balenciaga was as a major fashion designer, and created her bridal gown as a gift to the granddaughter of his first and greatest patron.
Nicole Kidman, 2006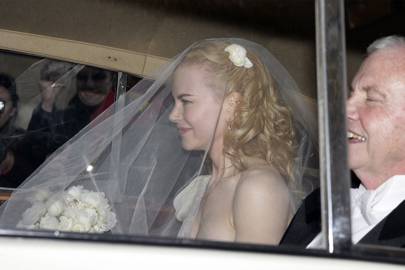 Nicholas Ghesquière was chosen to design Nicole Kidman's gown for her second wedding, to country and western singer Keith Urban. After a heavily publicised divorce from Tom Cruise, this was said to be her happy ending. Taking the reins, Balenciaga's creative director Ghesquière designed a deeply romantic soft lace and chiffon empire line gown with feminine puff sleeves. In 2017, Kidman donated the dress to an Australian exhibition in Sydney called 'Love Is…', stating that she'd do anything to support the cause of love, because it's the 'essence of everything'.
Salma Hayek, 2009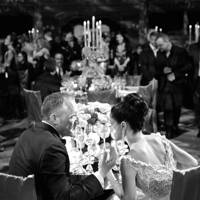 Having married in secret on Valentine's day, the then 42-year-old Salma Hayek also turned to Ghesquière for the creation of her gown to mark her public ceremony in Venice, as she celebrated her union with Francois-Henri Pinault. The dramatic full skirted ivory dress, with a low V-neck, heavily embellished bodice, carried an air of old Hollywood glamour about it.
NORMAN HARTNELL
Princess Alice, Duchess of Gloucester, 1935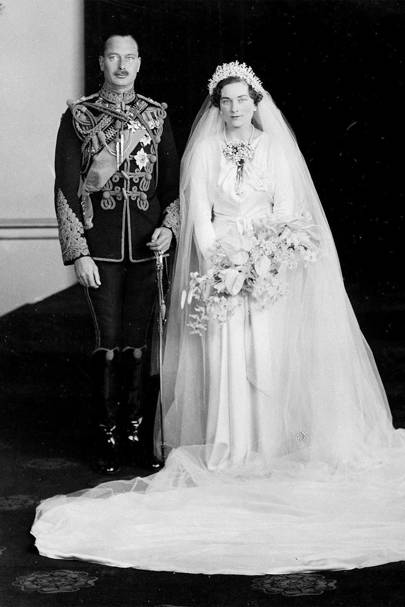 While Norman Hartnell had already made a name for himself in high society circles, his first royal commission came from Lady Alice Scott who approached him to design and make a dress for her wedding to Prince Henry, Duke of Gloucester, the third son of King George V. The blush hued satin gown was a huge success in more ways than one, as it launched Hartnell's career as a royal couturier for the next four decades to come, and was a noteworthy acceleration of his distinguished fashion career.
Queen Elizabeth II, 1947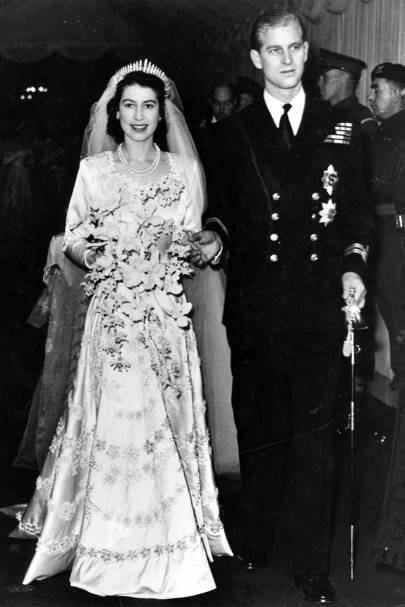 When designing the then-Princess Elizabeth's wedding gown, couturier Norman Hartnell said he 'wanted it to be the most beautiful dress I had so far made.' While it was an honour, it was equally a challenge for both himself and the Royal Family, since Britain was still slowly emerging from the ills of the Second World War. As such it needed to respect and reflect the mood of the nation while honouring their future Queen. Known for his love of opulence, he designed a slim A-line beautiful ivory silk and duchess satin dress with silver floral embroidery, 10,000 pearls and a 15ft star-patterned train. Designed in one month and made in a record-breaking seven weeks, Hartnell stepped up to the call with a staff of 350 women.
Princess Margaret, 1960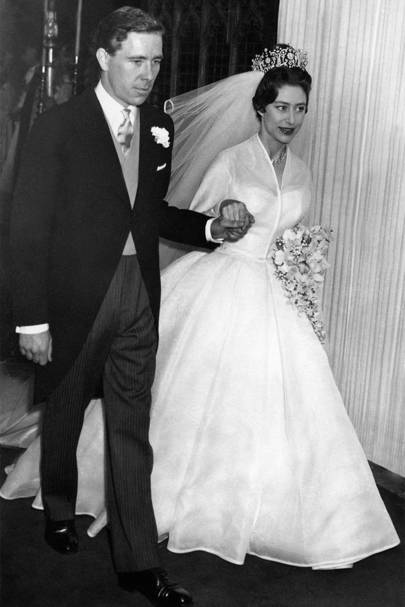 When the beautiful and fashionable Princess Margaret wed society photographer Antony Armstrong-Jones, there was great speculation as to who she would ask to design her dress. Many thought the headstrong princess would choose someone new, especially as she had already broke with tradition by purchasing a tiara for herself to wear on the day, instead of one from the family collection. When it came to her dress, however, Margaret went directly to the family's royal couturier Norman Hartnell, who had created the Queen's wedding dress 13 years earlier.
Princess Beatrice, 2020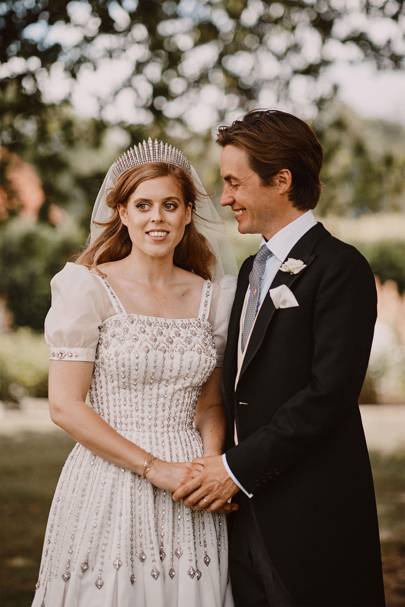 On 17 July 2020, when Princess Beatrice emerged from a private chapel in Windsor wearing a Norman Hartnell dress borrowed from her grandmother, the once cherished royal couturier's memory was brought back to life. The press responded with great respect for her considered choice. During the height of the pandemic she had chosen to go down the sustainable route and much like her grandmother on her own wedding day, she had thoughtfully reflected the mood of the nation. One of Her Majesty's current couturiers, Stewart Parvin, was called in to re-style the dress, personalising it for the princess by slimming it down and adding puff sleeves. In turn, vintage became the next big bridal trend with Vogue reporting a surge in internet searches using the term 'vintage wedding dress'.
Subscribe now to get 3 issues of Tatler for just £1, plus free home delivery and free instant access to the digital editions
More from Tatler